For business travelers like myself who spend significant chunks of time on the road, optimizing trip planning and knowing how to pack well are essential skills. After all, the contents of your suitcase directly affect the comfort of your trip — pack too much and you'll feel burdened and disorganized, pack too little and you'll be scrambling to find what you need. Packing appropriately can help you feel at home, even if you are in the most foreign of places.
Traveling light has always been my golden rule — I try to bring less rather than more while not forgetting important necessities. In the second post of my business travel series,  I will share hacks I have picked up over my years of travel that make packing for a business trip as painless as possible:
Packing Tip #1: Choose your luggage carefully
It's important to have the right luggage for a trip. Avoid the expensive Italian leather in favor of modest black nylon so you won't be a target for theft. Research and take into consideration your airline's weight limits and size standards. Ideally, your luggage should comfortably fit into the overhead compartment so you can avoid checking it in.

As a rule, I never, ever, check my bag. Especially not on international flights. As frequent flyers are well-aware of, being able to fit everything into a carry-on saves valuable time and prevents the nightmare of lost baggage. Always make sure to put your name on 2-3 parts of your luggage, just in case!
Packing Tip #2: Save the cutting-edge fashion for home
Two words to live by — pack lightly. Unless you are a banker, travel with simple outfits. For men, pack jeans, non-iron dress shirts, polo shirts, wingtips, a dark blazer, and workout clothes. I get mine at Brooks Brothers, Hudson Jeans, Alden, Lacoste and the Adidas shop. For women, pack versatile pieces you can easily mix and match. Black clothes work well for both sexes and can be worn with pretty much anything.
A good rule I try to stick to is packing three of everything — three pairs of pants, three pairs of shoes (workout, casual, business), three shirts, and one sportcoat. Wear the sportcoat on the plane so that it doesn't get wrinkled or take up space in your bag. Nest your socks and belts into shoes to save space.
Packing Tip #3: Keep in mind that you can do laundry
Doing your laundry is a great solution for those trying to travel with less on a long trip. If your hotel does not have laundry facilities, you can easily find US laundromats using Findalaundry, an online laundromat directory. For international travel, try using Tripadvisor to find locations.
On a recent trip I took to Copenhagen, I came across the Laundromat Cafe. This was a cool place to do laundry in the neighborhood and relax with a cup of coffee. Next time, I'm catching breakfast there!  
Packing Tip #4: Keep devices charged and chargers on hand
For business travelers, staying plugged-in has become synonymous with productivity. I make sure the battery life of my Solis global hotspot and other electronics are at 100% before embarking on a trip, and keep all my charging devices in one place for easy access. This way, I can pull out my laptop and get some work done on a flight and make sure that I have WiFi on-hand if I need to arrange ground transportation when I reach my destination.
Portable battery packs are a great backup plan for faltering battery life. Swiss Mobility has a great variety of power packs to keep you connected on-the-go (pssst….you can purchase a selection of Swiss Mobility products directly at Solis global hotspot rental vending machines located in SFO, LAS, and IAH), and Flux makes one of the slimmest power banks I've ever seen.
Bonus tip: Remember to bring foreign adapter plugs for each country you are visiting — or get universal adapters that cover the four main types of plugs.
Packing Tip #5: Don't forget important documents
I.D? Check. Passport. Check. Visas. Check. Driver's license. Check. Credit cards. Check.

I highly recommend making copies of all important documents in case of an emergency — it could prove to be a lifesaver if you are robbed or accidentally lose anything. A friend of mine had his passport stolen along with his backpack at a train station in Beijing, and spent the rest of his trip running around the city to embassies and consulates in-between meetings. Having both physical and digital copies of important documents readily available can significantly speed up replacement processes, and act as an effective insurance policy. Make double-sized copies to use less paper.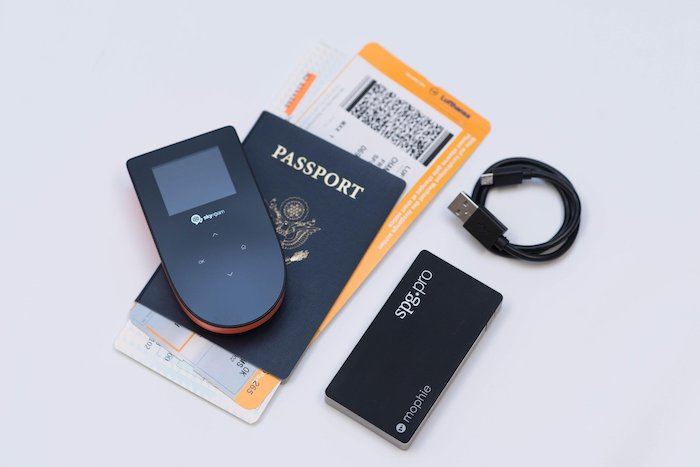 We previously covered planning tips and have now covered packing tips for savvy business travelers. Stay tuned for even more expert advice coming soon! In our ongoing business travel series, we will be covering productivity hacks, digital apps to assist with work, and more!
To learn more about Solis global hotspot, or to buy or rent one for your next trip,