Savvy business travel takes a lot of skill that oftentimes only come with time and experience. As VP/GM of Solis, I am on the road 10 days a month or more. At this point, after much trial and error, I believe I can seamlessly navigate the globe and balance work and play while abroad.
Great travel begins with great planning. I want to speed up your journey to becoming an expert business traveler, so I am sharing some of my tips to help you plan your most successful trip yet:
Step 1: Book Your Flight
Nowadays, we are lucky to have so many websites and applications that help us with trip logistics. When searching for a flight, use Kayak.com or Skyscanner to find optimal flight itineraries. Both of these sites clearly display different flight options from one destination to the next, making it easy for travelers to spot convenient times and prices that fit their needs. Each site enables you to book directly on the carriers' sites or on your favorite online travel agency.
Google Flights is another great option to get a broad perspective on flight pricing. The site has useful filters to narrow searches according to your preferences. Using a calendar layout, you can compare ticket costs side-by-side by week, or even by day. Try the innovative world map view when you are plotting out complex multi-city trips.
Step 2: Prepare to Cut the Line
As a frequent traveler, consolidating your travel to one or a handful of airlines can eventually get you access to fast-track flight check-ins and priority security lines. Make sure not to overlook a program from US Customs and Border Protection called Global Entry, which expedites your return to the US by way of special queues for immigrations and customs. Global Entry also gives you access to TSA Pre-Check for speedy domestic security screenings. And, Pre-Check enables you to keep on your shoes and belt as you go through security!
Your favorite airline might cover the cost of your Global Entry application - don't forget to check! Getting in and out of the airport quickly is critical to frequent travelers, since it frees up time for productive endeavors.
Step 3: Find the Perfectly Located Hotel
For an entrepreneur or business professional, time and location are everything. If you need to stay near city center, boutique hotels are typically the way to balance convenience with price. Starwood has a great approach with their relatively new Design Hotels and Tribute Collection concepts, offering the best of boutique hotels paired with the ease of big brand reservation systems and loyalty programs. For quick turnaround airport stays, I like Aloft or Moxy hotels.
Start your hotel search by Googling "boutique hotel in ..." to browse through options in the city you are visiting. Try using TripAdvisor or HotelsCombined to compare prices, scan local options, and read reviews. If you're staying in the same place for more than three days, consider Airbnb. While it is a little more trouble to check in and out, it allows you to brew a fix of bulletproof coffee in the morning and experience a home away from home.
Step 4: Use Ground Transportation Like a Local
In some airports, it can be a challenge to figure out pick-up points for Lyft or Uber. Taxis are efficient, but often tough on budgets — and they don't always accept corporate credit cards.
If you're not running straight to a meeting, why not try something more rewarding? Where possible, I like to take a rail link from the airport to the hotel. It avoids traffic, saves money, and provides a local experience. My favorite trip as of late was from Beijing Capital International Airport — I took the Express Railway to Dongzhimen, then caught a "chauffeured" tricycle from the train station to the hotel. It was faster, cheaper, and a lot more fun than a taxi. Pro Tip: Think twice about "authentic" local transportation like tricycles during harsh winters.
There are a number of apps, such as Moovit, that provide global bus schedules and subway maps in real-time to assist with local travel. If you do decide to take a taxi, make sure to check fares first with TaxiFareFinder so you don't get ripped off.
Step 5: Organize Itineraries
It's really important to have all your travel details consolidated in a single place. If you strive for a paperless life, it's critical to use a digital planning tool. I've found TripIt to be indispensable during my trips, as it allows me to neatly synchronize my calendar and sends me e-mail notifications on flight times, delays, and more in real-time. With TripIt, there is no longer a need to switch between travel apps or carry around stacks of paper with different itineraries.
Step 6: Equip yourself with portable WiFi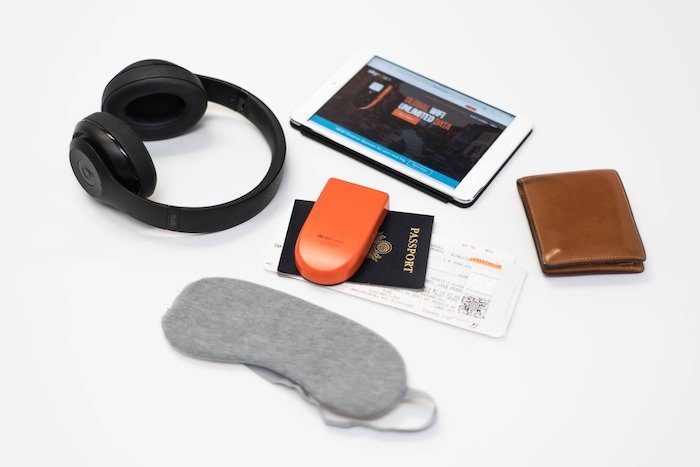 As a business traveler, staying connected is important for work, leisure, and keeping in touch with those who matter to you at home. That's where we come in! Solis global hotspot provides reliable connectivity for travelers all over the world.  Avoid the hassle of hunting for local SIM cards, sky-high roaming fees, and unsecure public internet. With Solis, the whole world can be your office, and you'll never be caught without WiFi when you need it again. You can even share WiFi with your colleagues, as up to 5 WiFi-enabled gadgets can connect to Skyroam at a time.
The best part? Solis has coverage in over 100 countries, including all top travel destinations, so one hotspot keeps you connected for all your business trips around the globe.
Stay tuned for more great tips in the upcoming weeks! In our business travel series, we will be covering packing tips, productivity hacks, and digital apps to assist with work, travel, and more!
To learn more about Solis, or to buy or rent a hotspot for your next trip,