What is Giving Tuesday? 
Giving Tuesday is a global day of giving fueled by the power of social media and collaboration. It is a movement to create an international of giving at the beginning of the Christmas and holiday season. Giving Tuesday was started in 2012 by the 92nd Street Y and the United Nations Foundation as a response to commercialization and consumerism in the post-Thanksgiving season (Black Friday and Cyber Monday).
How is Solis participating?
Solis donated 40 Solis 4G LTE WiFi Hotspots to the Alex Rocha Youth Foundation in Cartagena, Colombia, for students and community leaders who need connectivity for everyday life. Solis' own Social Media and Influencer Manager Martinqiue Lewis went to Columbia to hand deliver the hotspots! You can see her adventures when you follow @mysoliswifi on Facebook, Instagram, and Twitter. Join Solis and the #GivingTuesday movement on Tuesday, December 3rd, by reposting and sharing our content to donate WiFi to those who need it most.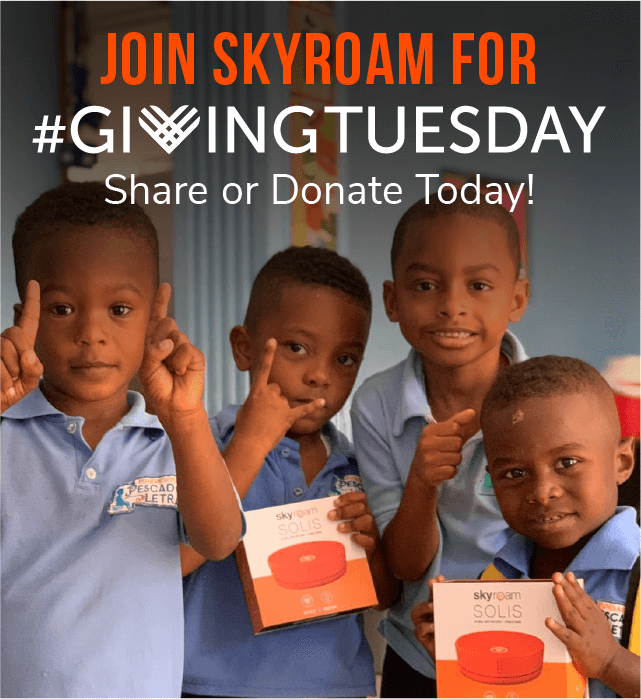 What is Alex Rocha Youth Foundation?
The Alex Rocha Youth Foundation operates the Young Center, a community school located in a disadvantaged part of Cartagena that teaches English, art, and moral values to children, teenagers, and adults as well offering recreational activities.
The center provides a safe haven for children who may be exposed to crime and violence, as well as helping children who come from dysfunctional families. The school has seven faculty and staff members serving 25 children, with programs for students in three age groups: 6-12 years old, 13-17 years old, and age 18 or older. Foundation funds have helped to purchase a video projector, and to make improvements to the school's building, including adding lockers and renovating the bathrooms to provide separate facilities for girls and boys.
How can you help make a difference?
Join us! Help us spread the word and raise awareness. To bring the Solis community together for this great cause, we will be donating 1 global WiFi daypass to the community for every social media share or repost of our #GivingTuesday content between Dec 3rd and 10th, 2019 (up to 200).
Share on on your favorite social platforms:
Want to Donate Now?
You can also donate WiFi directly! Just $9 gives students a full day of unlimited internet access for reading, learning, researching and sharing.